| | |
| --- | --- |
|    | |
|    | This petri dish filled with bacteria swabbed from a student's phone and from their chair. |
Clairbourn seventh-graders experienced a bacteria lab where they studied the microbiota of their daily lives.  Each student swabbed their phone or laptop and then had the option of a swabbing a second item. 


Students inoculated petri dishes with the bacteria collected in and around the classroom, and the growth was aided by an agar growth medium added to the dishes.  Each day, the petri dishes were studied and diagramed. 


On the second day, students noticed a slight scent emanating from the petri dishes.  As bacteria grow and replicate, they release a wide variety of compounds—many of which give off a strong odor—the smell of science!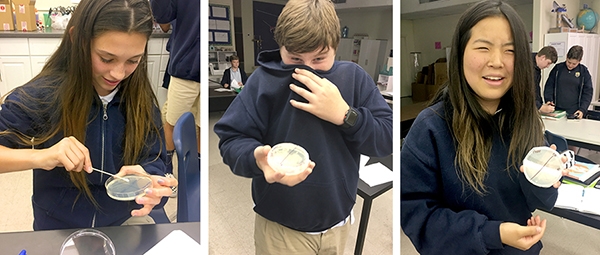 Growing bacteria in the petri dishes released odoriferous chemical compounds.